Rowland Chiropractic - Your Trusted Chiropractor in Odessa, TX for Back Pain Relief, Neck Pain Treatment, Headache Relief, and More.
Rowland Chiropractic is committed to providing expert care and personalized treatment plans that address the root cause of your pain and discomfort. With our gentle and effective chiropractic care, including spinal adjustments, massage therapy, and rehabilitation exercises, we can help reduce inflammation, relieve pain, and improve range of motion and flexibility.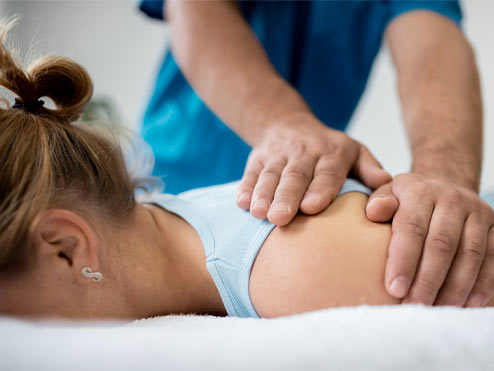 Chiropractic Without the Crunch
At Rowland Chiropractic, we understand that every patient is unique and requires a tailored approach to care. That's why we take the time to listen to your concerns and develop a treatment plan that is personalized to your specific needs. Our services include back pain relief, neck pain treatment, headache relief, and more.
We recognize that healing is not just about treating pain and discomfort, but also about promoting overall health and wellness. That's why we offer a range of complementary treatments to support our patients on their journey to optimal health, including massage therapy, rehabilitation exercises, and spinal adjustments.
Spinal Adjustments
At Rowland Chiropractor, we specialize in restoring proper function to your body by locating and adjusting musculoskeletal areas that are not functioning correctly. We use our hands or a small instrument to manipulate the vertebrae through chiropractic adjustments, also known as spinal manipulation. Spinal manipulation corrects structural alignment and restores physical function and range of motion. It's important to note that there is no special preparation for a spinal adjustment.
Instead of treating disease symptoms, we focus on correcting subluxations, allowing standard body functions to occur. Using our hands or a small instrument, we gently realign the vertebrae. This process may take weeks or months, depending on the degree of misalignment. By restoring nerve supply throughout your body, healing can occur, and symptoms will diminish.
Massage Therapy
In addition to back pain relief, we also offer massage therapy for neck pain treatment and headache relief. Our massage therapist will design a massage session to target specific muscle groups in your body and help you get relief from specific pain symptoms. Massage therapy can help relax the muscles and increase blood flow, reducing pain, inflammation, and muscle tension.
Rehabilitation Exercises
Rehabilitation exercises are an essential aspect of our care for back pain relief, neck pain treatment, headache relief, and more. These exercises are designed to help you regain strength, flexibility, and range of motion after an injury or surgery. Our team will design a personalized exercise plan for you to perform at home or in the office, in order to help you heal and recover quickly.
At Rowland Chiropractic, our goal is to help you achieve optimal health and wellness with our personalized approach to chiropractic care. Dr. Rowland, an experienced chiropractor with over 20 years of experience, has a true passion for helping people and focuses on finding the root cause of your pain and addressing it. As an Odessa native, he cares deeply for our community and is dedicated to providing the highest standard of care. If you're in Odessa, TX, and looking for a chiropractor for back pain relief, neck pain treatment, headache relief, and more, schedule an appointment with Rowland Chiropractic today and experience the benefits of chiropractic without the crunch.
Online Forms
---
We are thrilled to offer our patients the convenience of completing their forms in the comfort of their own homes or office. We understand your time is valuable and want to make your visit as easy and stress-free as possible. To get started, access our online patient forms, complete them at your own pace, and remember to bring them with you to your first appointment. We can't wait to see you!
New Patient Form
---

Real Patients, Real Reviews
---
I have had problems with my lower back and he has been wonderful. The healing is almost like magic.
Nora Arzate
January 31, 2023
It was well organized and the communication of coming to the terms of your appointment. Keep up the good work.
Anthony Newson
January 31, 2023
Relaxed environment, friendly staff Dr Rowland is thorough with examination, analysis and treatment.
Vincent Sterzer
January 26, 2023
Great experience … staff was very courteous and handled matters in a timely manner !
Hopper James
January 19, 2023
He's great with out the pop. They take the VA for veterans. And added bonus is the mascot Bella the dog.
Kathy Harrington
January 10, 2023
I always feel right,after I leave Dr.Rowland's practice.
Walter Baucom
January 9, 2023
So patient with our family of seven definitely going back!
Esther Hinojos
December 22, 2022