Non-Invasive Tinnitus Treatment Options in Odessa, TX
Living with tinnitus can be challenging, but our team at Rowland Chiropractic in Odessa, TX, provides non-invasive treatment options to reduce and eliminate tinnitus symptoms. Learn about the causes, risks, and rewards of tinnitus treatment and take the first step towards experiencing relief from the constant ringing in your ears.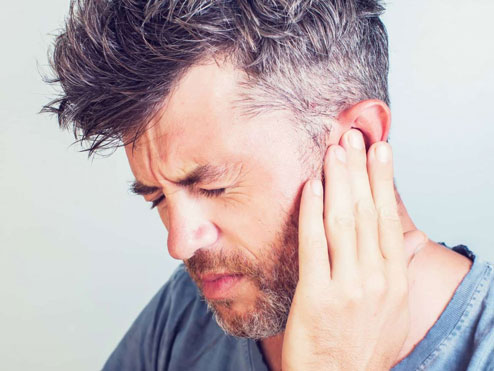 What is Tinnitus?
Tinnitus is a condition that affects our auditory system and causes the perception of sound when no external source is present. It can be experienced as buzzing, ringing, or high-pitched noise inside one's ears or head and is consistent in loudness in presence. Tinnitus can signify underlying issues such as hearing loss, ear trauma, certain medications, or cardiovascular problems. While some people with tinnitus experience mild, temporary symptoms, others live with disabling chronic conditions that can be emotionally draining without proper management.
Causes of Tinnitus
The precise cause of tinnitus can be challenging to pinpoint. Still, several contributing factors are associated with its development, including prolonged exposure to loud noise, ear or sinus infections, head injuries, exposure to certain medications, issues with the circulatory system, and stress or depression. Research suggests tinnitus could result from brain changes or inner ear or auditory system damage. Understanding the potential risk factors associated with this condition can help to inform strategies for preventing and managing tinnitus.
Risks of Untreated Tinnitus
If left untreated, tinnitus can be disabling and significantly diminish the quality of life. People who experience persistent buzzing, hissing, roaring, or clicking sounds may suffer from tinnitus. Such persistent and intrusive noises can cause difficulty focusing, sleeping problems, anxiety, and depression. Additionally, a lack of treatment may lead to problems with everyday tasks such as studying or work activities because of decreased concentration and focus levels. For those who suffer from tinnitus, seeking medical attention to address the problem early on and avoid potential long-term implications is vital.
Tinnitus Treatment Options
Treatment options for tinnitus are limited. Despite recent progress in the field, medications and noise therapy strategies often need to be more effective. Dr. Rowland at Rowland Chiropractic in Odessa, TX, has discovered a non-invasive treatment method that has revolutionized treating tinnitus. This method can drastically reduce and even eliminate many cases of tinnitus by using deep work on specific areas around the skull and jaw. A typical treatment only lasts a few minutes, and most patients will experience improvement after their first visit. Only a handful of treatments are required to achieve complete relief from symptoms.
Why Choose Rowland Chiropractic?
If you or a loved one are suffering from tinnitus, the journey toward relief begins with us. Our staff at Rowland Chiropractic in Odessa, TX, is well-equipped to deliver the best possible care for you. We utilize non-invasive solutions focused on easing the annoyance of the ringing in your ears. The personalized treatment plans we develop factor in the individual patient and provide educational sessions to inform you of your condition, risks, and reward of available solutions. We ask for an open mind as we will explore which options are most suitable for your circumstances so you can start hearing the sweet sounds of silence again.
Call us today to schedule a consultation and learn more about our non-invasive tinnitus treatment options in Odessa, TX.
Online Forms
---
We are thrilled to offer our patients the convenience of completing their forms in the comfort of their own homes or office. We understand your time is valuable and want to make your visit as easy and stress-free as possible. To get started, access our online patient forms, complete them at your own pace, and remember to bring them with you to your first appointment. We can't wait to see you!
New Patient Form
---

Real Patients, Real Reviews
---
I have had problems with my lower back and he has been wonderful. The healing is almost like magic.
Nora Arzate
January 31, 2023
It was well organized and the communication of coming to the terms of your appointment. Keep up the good work.
Anthony Newson
January 31, 2023
Relaxed environment, friendly staff Dr Rowland is thorough with examination, analysis and treatment.
Vincent Sterzer
January 26, 2023
Great experience … staff was very courteous and handled matters in a timely manner !
Hopper James
January 19, 2023
He's great with out the pop. They take the VA for veterans. And added bonus is the mascot Bella the dog.
Kathy Harrington
January 10, 2023
I always feel right,after I leave Dr.Rowland's practice.
Walter Baucom
January 9, 2023
So patient with our family of seven definitely going back!
Esther Hinojos
December 22, 2022